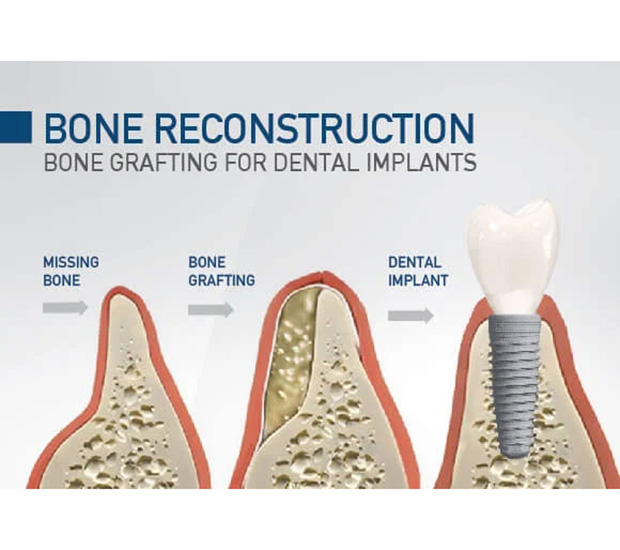 Guided Bone Regeneration
Carpinteria, CA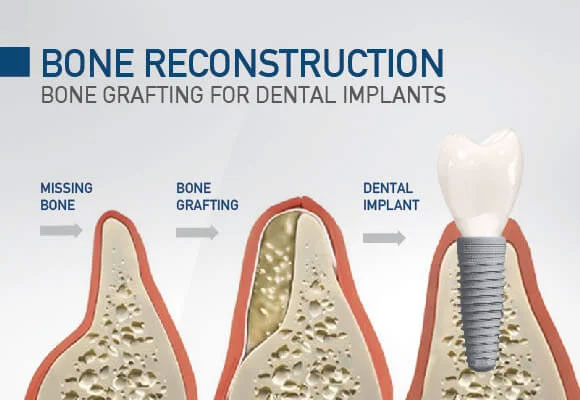 Guided Bone Regeneration
Ideal boney contour and volume (horizontally and vertically) are fundamental for ideal dental implant placement. There are times that either the bone volume or contour is compromised. In those cases, your jaw bone needs to be restored to its ideal shape and contour. If the bone is not restored properly or adequately, part of the implant will be out of the bone or your implant will face gradual bone loss and inevitably, pocket forms around the implant. This pocket will result in inflammation and low-grade infection of the surrounding tissue. This inflammation and resorption will cause more bone loss. This process acts like a vicious cycle. More bone loss causes more infection, resulting in more bone loss until the implant fails. Sometimes, the patient does not find out about it, till the last stage of bone loss.
Guided bone regeneration (GBR) was introduced more than 30 years ago. The aim of this procedure is to re-establish the ideal boney contour and volume for implant placement.
Please remember that if you are heavy smoker and cannot cut back on your smoking or if you have uncontrolled diabetes or any other serious medical conditions you are not the best candidate for this procedure. If you have received a Bisphosphonate shot for your osteoporosis also you are not a good candidate for this procedure. However, in case of any well-controlled medical conditions, you can receive guided bone regeneration.
What are the consequences of not having guided bone regeneration?
You should understand that in some cases without having guided bone regeneration, implant placement is not possible. There are other cases that need a mild amount of bone grafting for guided bone regeneration. In those cases, without guided bone regeneration the implant placement would not be ideal. Improper implant placement will result in many complications including but not limited to implant overload, gradual bone loss, suboptimal crown contour, food impaction, not esthetically pleasing implant crown, and pocket formation around the implant leading to infection and discomfort.
How is guided bone regeneration performed?
After your initial visit and based on your CBCT (3D image), your surgeon can measure your bone width and height accurately to find out if you need guided bone regeneration before placing any dental implants or not. After informing you and obtaining your consent, the procedure will be as follow:
You will be given antibiotics to prevent any possible infection after surgery. Your surgeon will start anesthetizing you with local anesthetics. The incision will be performed, then the tissue is raised, often the surgeon will place some screws acting as tents (they are called tenting screws) to keep the tissue up. Then bone graft, which can be in the form of Allograft (cadaver bone), Xenograft (cow or pig bone), Synthetic bone substitute, Autograft (Patient's own bone), or a combination of them, is used to restore the boney contour and volume. It will be covered by a resorbable membrane. Occasionally instead of tenting screws, a non-resorbable membrane is used. These tenting screws or non-resorbable membranes will be removed during the implant placement stage. Tissue is released to achieve tension-free primary closure. Eventually, suturing is done.
The procedure usually takes about 90 minutes.
What to expect and do after GBR?
The patient may experience a mild to moderate amount of swelling and inflammation. The patient will be prescribed antibiotics and pain killer. Usually, the swelling reaches its peak in 72 hours and will subside afterward. Bruises might happen and it is normal.
The patient should resume gentle brushing and rinsing warm salt water from the next day. Eating soft food is encouraged for the next 2-3 weeks. It is important to keep your mouth clean.
The patient should avoid wearing their complete or partial removable dentures for the next 4 to 6 months. It takes time for the bone to heal and during the early stages of healing, it is very soft. Wearing partial or full denture will put excess pressure on the bone graft and either will displace it or cause bone shrinkage, hence needing more surgery and delaying final implant placement.
In rare cases, patients might feel some numbness on their lip, chin, teeth, or tongue on the side of surgery. This complication is rare and most of the time will resolve on its own without any intervention, but if it happens you need to let your surgeon know as soon as possible so they can start some anti-inflammatory medications such as cortisone to help the recovery. Another, rare complication of this surgery is sensitivity and gum recession around teeth next to the surgery side. This kind of gum recession is treatable most of the time.
How long should you wait to receive your implant after GBR procedure?
The amount of your residual bone determines if the implant can be placed at the time of GBR or not. Occasionally, your surgeon might be able to place the implant during your GBR procedure. Otherwise, the Jawbone needs 6 to 9 months of healing time after GBR for any implant placement depending on what type of bone substitute was used for your bone augmentation procedure.
GBR most of the time, more than 90%, is successful, nonetheless, there are very few cases where either body does not turn the bone graft into your bone or rejects the bone graft, consequently it will not let us place any implants. In those cases, the patient might need another round of guided bone regeneration.
Patients should understand that the surgeon's skill is only a part of successful GBR, however, there are other contributing factors such as your body, genes, following the post-operative instructions, and so forth.
Quality Dental Services Can Transform Your Smile
By visiting us as soon as possible, our team can help get you the professional treatment you need. Instead of waiting around and allowing the symptoms to get worse, we can provide you with treatment options.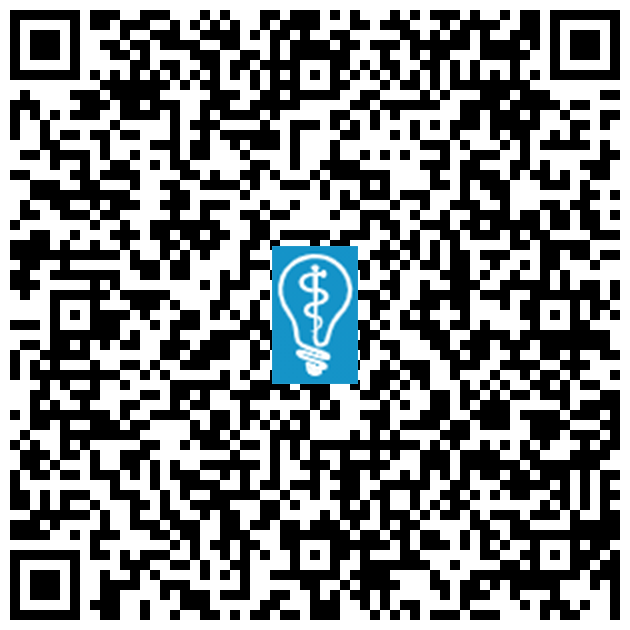 Scan here to view the All-on-4® Implants page, on mobile
It is Your Turn
If you are missing teeth, consider All-on-4 implant surgery. Call us today at (805) 920-2141 to discuss your oral health needs. Join other patients in Carpinteria and rediscover your smile and ability to eat the foods you love. You may also finally feel good about your overall appearance.
Helpful Related Links
About our business, license, and website security
Carpinteria Smiles was established in 2022.
We accept the following payment methods: American Express, Cash, Check, Discover, MasterCard, and Visa
We serve patients from the following counties: Santa Barbara County and Ventura County
We serve patients from the following cities: Carpinteria, Summerland, Santa Barbara, Montecito, Goleta, Ventura, Oxnard, Ojai, Camarillo, and Lompoc

CA (License #103337)

. View License Information and Specifics

National Provider Identifier Database

(1720555279). View NPI Registry Information

Norton Safe Web

. View Details

Trend Micro Site Safety Center

. View Details
Related Posts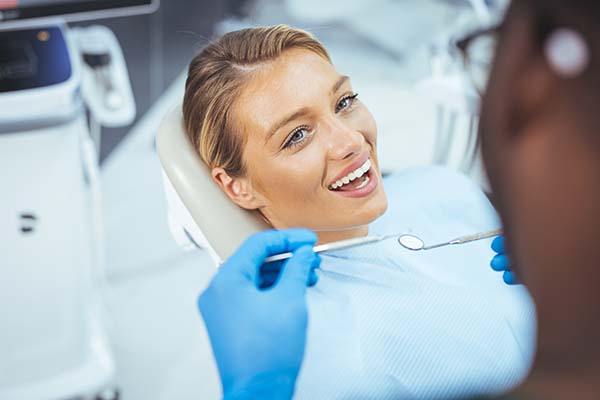 A general dentist offers a wide range of dental services to patients of all ages, which is why it is beneficial to have regular appointments with them. Maintaining regular appointments is in everyone's best interest, regardless of age! In this article, we discuss a few benefits of having one dentist to visit on a regular…