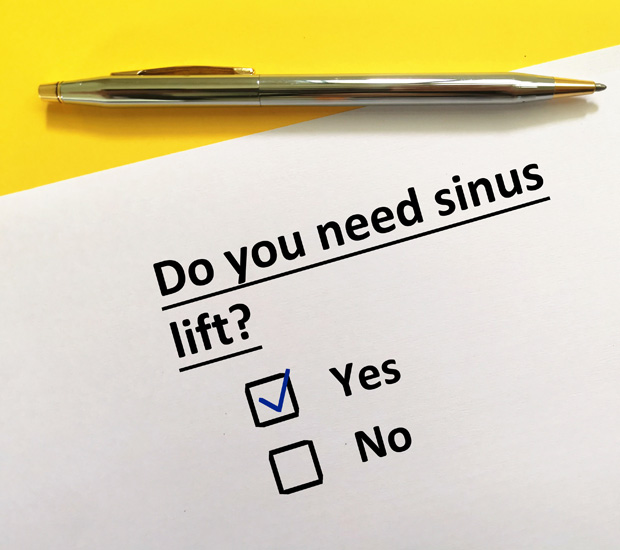 Sinus Lift
Carpinteria, CA
What is a Sinus lift?
In the posterior part of the upper jaw, there is a cavity filled with air on each side called the maxillary (upper jaw) sinus. There are cases that in this region, there is not enough bone height to place an implant either due to the size of the sinus or shrinkage of the jaw bone which is called resorption. In these cases, your surgeon needs to make a space between the sinus membrane (called Schneiderian membrane which is a thin layer of tissue that covers the inside of sinuses) and the jawbone underneath then pack some bone substitute in that space. These bone substitutes over the course of time will turn into your native bone. This procedure will result in enough bone height and produce a secure foundation for your dental implant. Without doing this procedure, there would be not enough bone support for the implant and it will not survive demanding tasks such as chewing.
A sinus lift is one of the most common types of bone grafting procedures especially when there is a need for full mouth reconstruction.
During your initial consultation, by taking CBCT (3D imaging) your surgeon can measure the exact amount of your remaining bone structure and tell you if you need any sinus lifting procedure.
Please remember that if you are heavy smoker and are not able to cut back on your smoking or if you have uncontrolled diabetes or any other serious medical conditions you are not the best candidate for this procedure. If you have received Bisphosphonate shot for your osteoporosis also you are not a good candidate for a sinus lift. However, in case of any other medical condition which is under control, you can receive a sinus lift.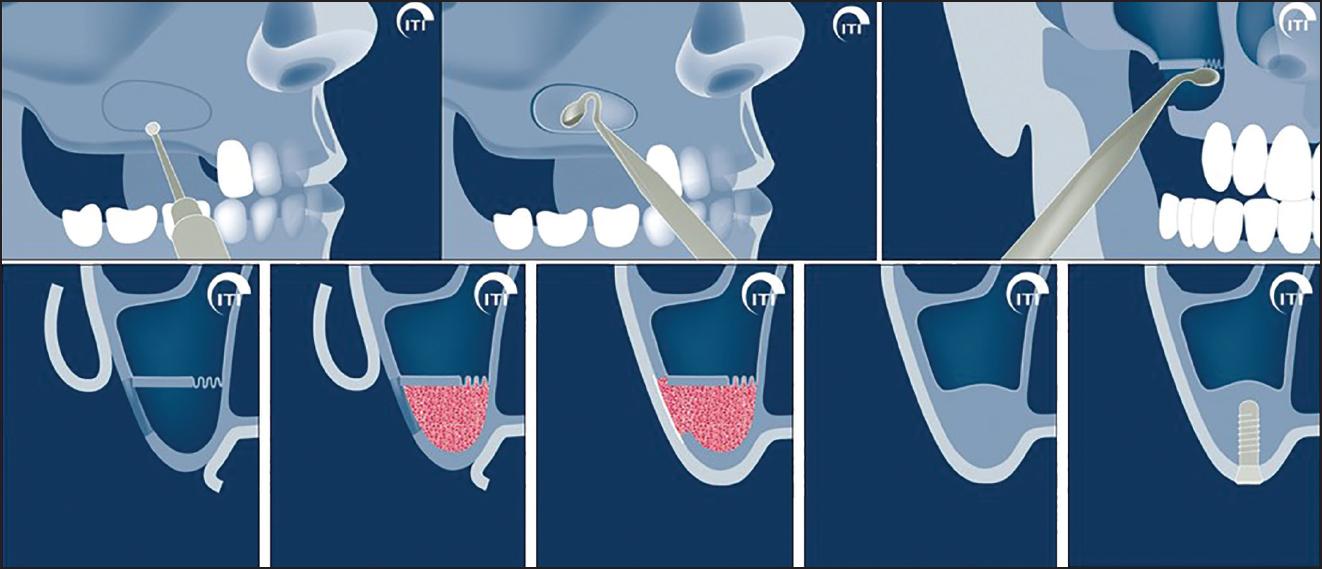 What type of bone graft is used?
This bone graft can be allograft (human cadaver bone), Xenograft (Cow or pig bone), synthetic bone substitute, or autograft (patient own bone). Occasionally, it can be a mixture of two of these bone grafts. All of these bone substitute materials are processed and sterilized and they are all FDA approved.
What patient needs to do before the procedure?
Please have a light meal, but refrain from any coffee, soda, any caffeinated beverage, or any beverage containing alcohol. Do not smoke on the day of surgery. Brush your teeth thoroughly.
What happens during the procedure?
The sinus lift is an easy and well-tolerated procedure for patients. It is performed in the office under local anesthesia. The patient usually will be premedicated with antibiotics to prevent any possible infection. The whole procedure takes about 90 minutes.
After local anesthesia, an incision is made, then the tissue is raised, a small window is made on the side of the sinus, by gentle pushing sinus membrane is lifted, and the bone graft is packed between the sinus membrane and jaw bone, the tissue is brought back to its original position and will be sutured.
What should the patient do after the sinus lift?
Sinus lift has very little discomfort. Like any other surgical procedure, the patient may experience some swelling for about 1 week. Usually, the swelling and discomfort reach their peak in 48-72 hours then it will start subsiding. Occasionally, bruises might happen. The patient needs to follow the instructions after the sinus lift to prevent any complications, such as infection. Please follow the instructions below for 1 month:
Taking antibiotics is an essential part of this procedure.
Do not blow your nose for 1 month after surgery to prevent the risk of sinus membrane rupture, hence dispersal of graft material into the sinus and subsequent infection.
Do not engage in heavy physical activity, such as heavy lifting, swimming, running, and so forth for 1 month. Doing regular physical activity, like walking, routine light chores, grocery shopping, and …is OK.
Avoid drinking with any straw for 1 month. You can drink out of a cup.
Refrain from any sort of smoking for 1 month, the nicotine inside the tobacco is very harmful to bone grafts, and the heavy drag, while you are smoking, may cause sinus membrane rupture and subsequent infection.
Do not close your mouth while you are sneezing or coughing for 1 month. Coughing and sneezing with an open mouth is OK.
Start brushing your mouth from a day after surgery and rinse with warm salt water.
If you do not have any high blood pressure, Afrin nasal spray (it is an over-the-counter medication and does not need a prescription) is recommended. Spraying 1 puff, 2 times a day for only 4 days. It is important not to use Afrin for more than 4 days.
Usually, you see your surgeon about 2 weeks for a post-operative check. Please remember that infection after sinus lift is not very common, especially when the patient follows all the post-operative instructions; however, if you feel any bad smell in your nose, your mouth, any fever, any excess bleeding, or anything unusual, please contact your surgeon as soon as possible! It can be a sign of infection.
How long should you wait to receive your implant after the sinus lift procedure?
The amount of your residual bone determines if the implant can be placed at the time of sinus lift or not. Occasionally, your surgeon might be able to place the implant during your sinus lift procedure. Otherwise, Jawbone needs 6 months of healing time after sinus lift for any implant placement.
The patient should understand that the surgeon's skill is only a part successful sinus lift procedure, however, there are other contributing factors such as your body, genes, following the post-operative instructions, and so forth.
Quality Dental Services Can Transform Your Smile
By visiting us as soon as possible, our team can help get you the professional treatment you need. Instead of waiting around and allowing the symptoms to get worse, we can provide you with treatment options.
It is Your Turn
If you are missing teeth, consider All-on-4 implant surgery. Call us today at (805) 920-2141 to discuss your oral health needs. Join other patients in Carpinteria and rediscover your smile and ability to eat the foods you love. You may also finally feel good about your overall appearance.
Helpful Related Links
About our business, license, and website security
Carpinteria Smiles was established in 2022.
We accept the following payment methods: American Express, Cash, Check, Discover, MasterCard, and Visa
We serve patients from the following counties: Santa Barbara County and Ventura County
We serve patients from the following cities: Carpinteria, Summerland, Santa Barbara, Montecito, Goleta, Ventura, Oxnard, Ojai, Camarillo, and Lompoc

CA (License #103337)

. View License Information and Specifics

National Provider Identifier Database

(1720555279). View NPI Registry Information

Norton Safe Web

. View Details

Trend Micro Site Safety Center

. View Details
Related Posts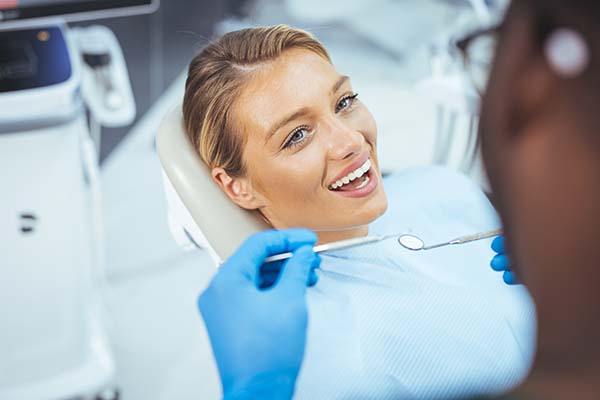 A general dentist offers a wide range of dental services to patients of all ages, which is why it is beneficial to have regular appointments with them. Maintaining regular appointments is in everyone's best interest, regardless of age! In this article, we discuss a few benefits of having one dentist to visit on a regular…